Content is an essential component of a modern SEO strategy. It helps to reach your target audience, communicate with it, and turn it into customers. Besides, content is super important for ranking in Google.
Unfortunately, content often fails to work as expected, even if it targets the most searched keywords in the niche. A business owner loses time and money spent on content production, getting no revenue. For small businesses, it can be a real pain, as they usually can't afford wasting budgets on ineffective things.
To make content work in favor of your business, you need to approach it strategically. It means that you need a well-elaborated content strategy and a good content plan that helps implement this strategy.
Define your goals
As writing content for the sake of content usually boils down to nothing but a waste of time and resources, each piece you write should have some purpose. Thus, before planning, come up with a content strategy and decide on your goals.
From an SEO point of view, there may be two general goals you can aim at with the content that you create.
Goal 1 — Drive traffic from the search.
To reach it, you write content that ranks well for industry-related keywords and sends tons of relevant traffic to your website.
Goal 2 — Build website authority.
In other words, you write your content to acquire backlinks from the topically-related sources, which signals search engines about your website expertise and authority.
Let's break it down.
An old authoritative website that has a massive backlink profile behind it can rank for almost any necessary keyword (for example, a how-to-do-something word) fast enough. So there's no need for a site owner to put too much effort into link building. In such a case, driving traffic from search seems to be the most appropriate goal to build a content strategy around.
When it comes to younger websites, there's another situation.
For a total newbie with the number of backlinks close to zero, ranking for keywords that can drive a significant amount of traffic looks a bit back-breaking. For them, authority and link building will be a priority.
And there are always websites somewhere in the middle. They will have to build a content strategy to reach the balance between both of the goals.
How to understand where you are
If you launched your website like yesterday, everything is clear. In other cases, you need to get an idea about how authoritative your website looks to search engines.
Plenty of SEO tools allow for authority analysis, so you can choose whichever is more convenient for you. As I'm used to 
SEO PowerSuite tools
, I'll be using them to illustrate my story.
Find your competitors
You probably know how many backlinks you have. But these figures won't tell you anything until you compare them to your competitors'. To make it simple, you need to know who is more authoritative, to understand how hard it would be to rank in your niche. So let's see who makes the competition.
To do this, create or open your project in Rank Tracker and jump to Competitor Research > Domain Competitors. Enter your domain in the search bar and choose the search engine from which to take the results. Here you go.
Sort the list of your competitors by the amount of the organic traffic they get simply clicking the header of the Organic Traffic column.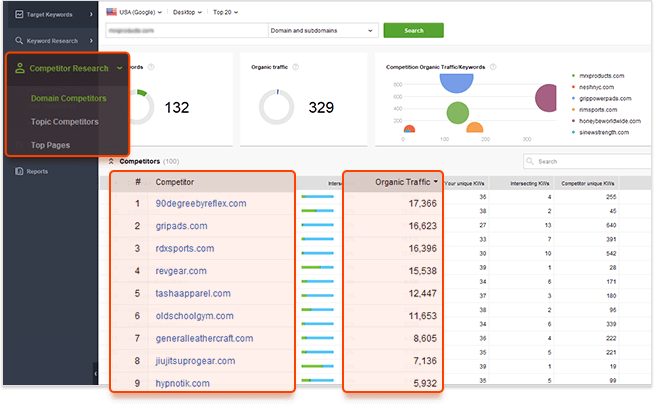 See where you are
Open your project in SEO SpyGlass and go right to Bulk Analysis. Copy the list of your competitors from Rank Tracker and paste it in SEO SpyGlass. Click Analyze, and in a couple of seconds, examine the results.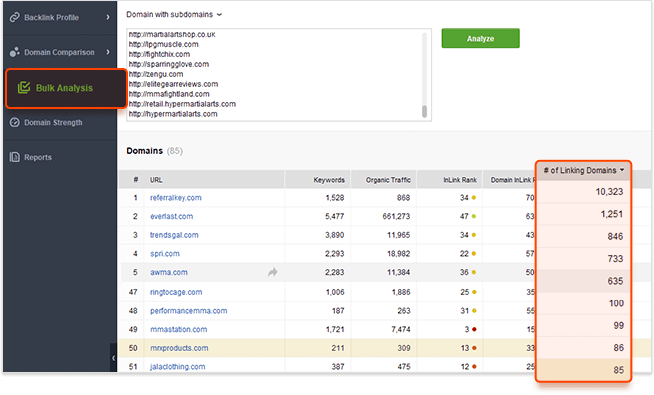 Compare the number of backlinks and your Domain InLink Rank — a domain backlink authority measure — with those of your competitors.
You've got the point.
At the end of the day, you'll decide on which goal you need to focus your content writing efforts.
If your website performs the same as the most authoritative competitors, you can engage in writing content for ranking.
Somewhere in the middle? Split your efforts and aim at both backlinks and traffic.
If you see that your backlink profile looks poorly compared to your competitors, then you need to acquire quality backlinks.
Identify your audience
The second step to take after having defined the goals for your content is to identify the audience you'll be targeting with it.
Different goals determine different audiences you can target.
Audience 1 — your existing clients and potential customers you want to convert.
Audience 2 — influencers you want to reach out for backlinks, mentions, and exposure.
In most cases, these audiences may never intersect.
Here's what I mean. Imagine a travel agency that organizes tours to the Galapagos Islands. They are most likely to be targeting the audience that they want to convert with something like '10+ things you must see on the Galapagos' (with nice pictures of landscapes, birds, and the underwater world, engaging descriptions, and special offers). While a study about the impact of touristic flows on Galapagos economics will be destined for journalists' attention.
These two audiences are totally different. They have different spheres of interest, different goals, and motivations that you can address with your content. And it's drastically important not to confuse them having a clear idea about which of your audiences you want to target with this or that piece of content.
To do this, you need to examine your audience to single out its typical representatives, as well as analyze your niche to define your ideal influencers. Speaking the marketing language, you need to identify your buyer personas and linkerati.
Shape your buyer personas
Creating personas requires some analytical work. But in fact, it sounds scarier than it is. Here's where you can get the data for analysis.
Give it a thought
No one knows your business better than you. And you can suggest who are the typical consumers of your products or services. So make yourself a cup of tea and think about your customers.
As a travel agency, you know that a big part of the buyers of your Galapagos tours is divers in pursuit of seeing whale sharks. And usually, they are fifty-fifty men and women. But all of them seem to have a good income.
You could also notice that for bird and turtle watching tours, your major clients are women. And the majority of them are also interested in good beaches for sunbathing.
You might have also noticed that there's a big group of consumers who look for tours as a gift.
Write everything down. For the sake of convenience, it would be nice to have a sort of template at hand. For example:
#1 persona's name:
[A passionate diver]
The general problem/motivation:
[Wants to see whale sharks]
#1 persona's typical features:
[Male/female, age, income, sphere they work at — anything typical for the majority of the group representatives and important for your business (for example, the total majority of diving tours buyers are above 30 and under 45 years old; but if the age is not important — leave it aside)]
How can you help:
[Offer a tour specially tailored for divers, with a special 5-days diving package deal]
#2 persona's name:
[A lazy birdwatcher]
The general problem/motivation:
[Needs relaxed vacations with sunbathing and birdwatching]
#2 persona's typical features:
[A female from a creative/marketing sphere, no children]
How can you help:
[Offer 10-days tour to a place with birdwatching spots and good beaches, plus a quiet childfree hotel]
Even after this analysis, you can already create three-four different buyer personas. You see that they turn to you having different goals and motivations, so you'll be targeting them with different types of content, offering different solutions to their problems.
To support your ideas, or find more information, you'll need the real data. And there's an ideal place to find it.
Consult with Google Analytics
If you have a website for your business, you definitely have a GA account. With the take-aways from the previous step in mind, you can create (or probably already have created) several segments to analyze. Such as a segment dedicated to diving that includes all the site pages dedicated to this service. The same for birdwatching, turtles, a tour as a gift, etc.
Now, explore the Audience section for each segment.
You can start with the Demographics > Overview to see the groups your audience falls into in terms of age and gender.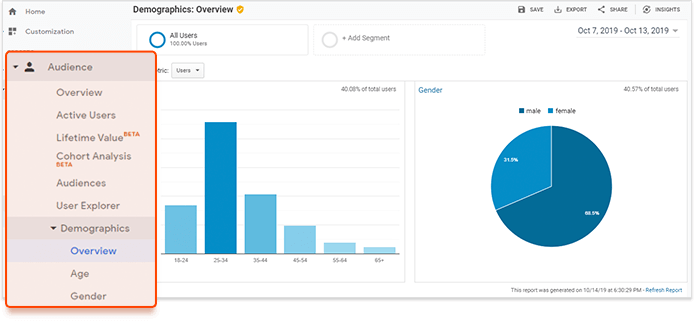 Drill into each data section to learn what information is important for your business, and what you can ignore. For example, is age an important factor for you? Let's check.
In the example below, you can see that two age groups altogether make the biggest contribution to the revenue. Two more joined age groups also contribute but with a much less share.
Explore each group to find peculiar features that unite these groups' representatives and what differentiates them. Probably, they have different motivations to use your service or different expectations from it.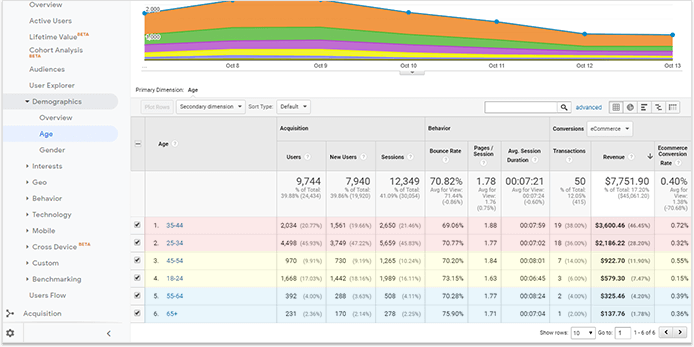 You can see that the first group comprises people of active working age. Probably, the industry they work in matters, so you'll need to clarify this point somehow. What else can you presume? Probably, they don't economize on their vacations, so you might target them offering some top-level services.
Another group is a different story. A part of it is young people, probably students (or working students) and young specialists. The other part is represented by people of working age, including some being at the edge of retirement. Judging by how they convert, they are eager to consume services similar to yours but probably have limited budgets. You could make them convert, offering some economy options, sales, package deals, etc.
The third group seems to be occasional buyers, and you can presume that their goals are similar to those of the people from the previous group. Thus, there's no need to create a separate persona for them.
Now, drilling step by step into each section of your audience and looking at interests, age, gender, location, behavior, etc. for each group, can result in at least two things. First, you may be able to correct the personas you've created previously. Second, you'll come up with a list of questions to clarify.
Question your audience
The best thing to learn something about people is to ask them. This is the best way to see the full picture of customers' needs, problems, expectations, etc. Who you can question?
The database of existing customers — the source from which you are most likely to get the necessary data, as people you question are already loyal to your business. Here is what you may ask about:What is their background/occupation/family status (choose what's important for you to know)?
Have they ever tried using your competitor's products/services?
How exactly your service helps them?
The database of your prospects — the leads that have not yet turned to your customers. These people know about your service but haven't decided to buy it. The possible questions you may ask are as follows:What problems do they face/ goals do they want to reach?
What blocks them from using your service?
What solutions do they use to address their problems/ goals?
Putting together all the data you've gathered, you should come up with a list of very precise buyer personas.
This means that each persona you create will have its unique problem that you can solve. Also, each persona's profile will contain only the information that would help you target them. All the unimportant data should be cleared away.
Identify your ideal linkerati
Linkerati are another story. These are people (resources) that you target to get backlinks. So if you build your content strategy around acquiring backlinks, you'll focus all your efforts on getting their attention. They can be bloggers, journalists, industry experts, etc. — those having armies of dedicated followers or readers.
How can you define your ideal linkerati?
The answer is the same — analyze. Just as with buying personas, you'll need to analyze the landscape to figure out typical portraits of influencers that would most likely share your content and resources that would be interested in linking to it.
Monitor social media for mentions of your brand and topic influencers
Everyone who has ever tried influencer marketing knows that social monitoring is one of the best ways of finding influencers in your sphere. And there's a variety of social listening tools on the market that help make the process fun and easy, such as Awario and others.
For example, you make and sell gluten-free bread. Searching through social media for gluten-free-related keywords, you might find a 'fitness-guru' that shares useful recipes and dwells on the benefits of the gluten-free diet for staying fit. But you might as well find a mom-blogger who is into all things rising gluten-allergic kids. Both of them are relevant to you, but you will be reaching them out with different subjects.
Find out what these people generally write about to understand their overall interest in the topic. Look at the size of their following and the context in which they mention your name.
So create your account in Awario, feed it the keywords related to your industry to create an alert for their mentions.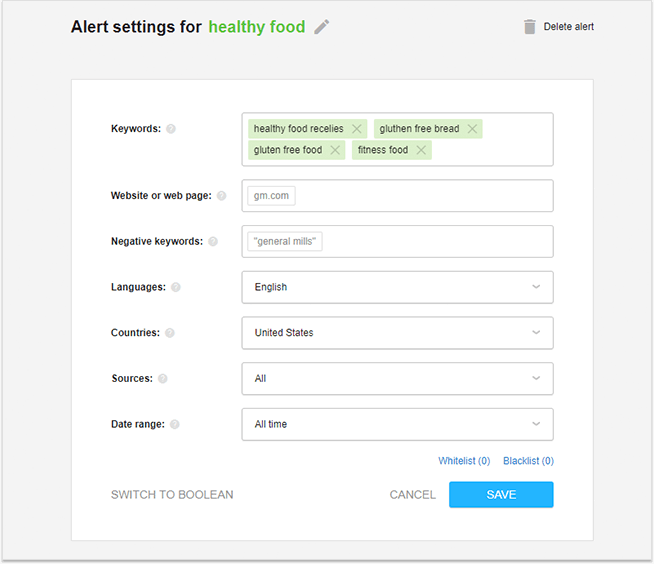 You can create alerts for different groups of keywords, as well as for your brand name mentions.
Check your alerts to see who dwells on the same topic and in what context.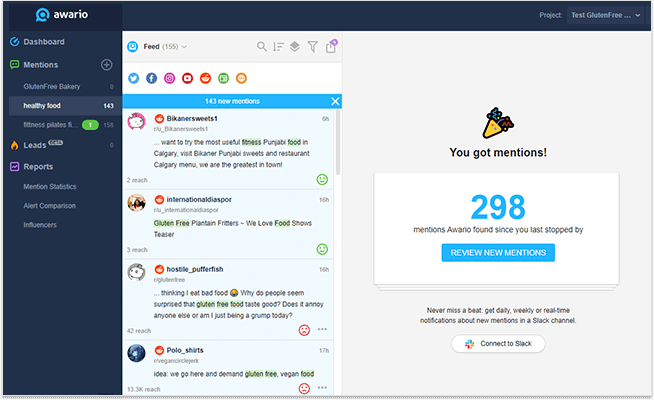 Now, go to Reports to see and analyze your topic influencers.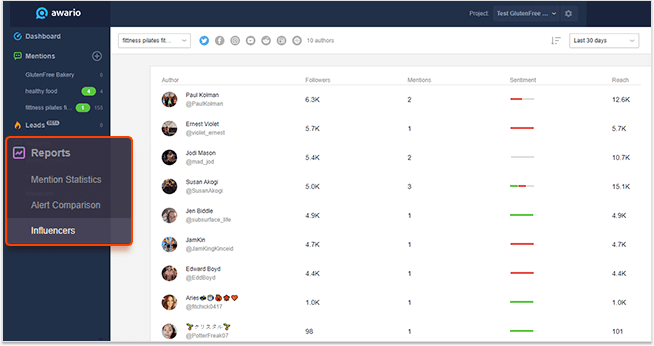 As a result, you'll come up with a couple of linkerati personas and a clear understanding of what content you need to target them.
#1 linkerati name:
[A fitness-guru]
Spheres of interests:
[healthy life, wellness, dieting]
#1 linkerati features:
[a woman of 35-45 years old, a workout fan leading healthy life]
How to target:
[healthy food impact on staying fit, best diets to support your exercise]
#2 linkerati name:
[A health-life mom]
Spheres of interests:
[cooking, healthy life, kids health]
#2 linkerati features:
[a woman of 25-35 years old, having 1-2 kids, enthusiastic about cooking healthy food]
How to target:
[recipes for gluten-free home-made dishes, healthy snacks, etc. ]
Plus, you'll have a list of individual influencers that you can use to promote your content in the future.
Moreover, you can turn directly to people mentioning your brand and ask to add a link. As people are more eager to link to what they know and loyal to, you will likely get a backlink.
Look what resources link to your industry-related content
Speaking of linkerati, they don't have to be individual bloggers, but bigger Web resources as well. The easiest way to find them is to analyze your best-ranking pieces of content to see what sites currently link to it.
If your website is brand new with like a pristine backlink profile, analyze your SEO competitor (a website that ranks higher than you for your target keywords).
First, it will help you gather a list of websites potentially interested in your topic. Second, knowing yours or a competitor's most linkable content can pitch you an idea of what types of content gather backlinks better.
Analyze the best-performing content
You know, your best pages — those that rank the best for high search volume keywords and drive you loads of traffic. If not, let's find them.
Open your project in Rank Tracker and go directly to Competitor Research > Top pages. Enter your domain address in the search bar and click Search.
You'll be given a list of your best-performing pages, which you can sort by organic traffic they receive or the number of backlinks, choose whatever seems more informative to you.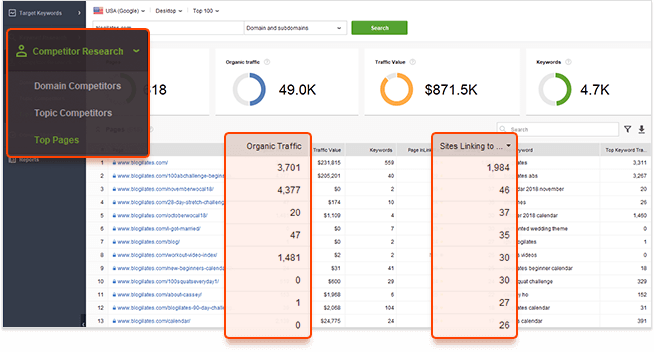 Explore the linking domains
Copy the list of your top pages to an Excel file to keep it at hand and go to SEO SpyGlass.
Create or open your project and jump to Backlink Profile > Backlinks. Filter the results entering your top pages URLs one after another in the Quick Filter: contains window.
Sort the results by the Domain InLink Rank value to see the most authoritative domains in the list (they have bigger values marked with green points).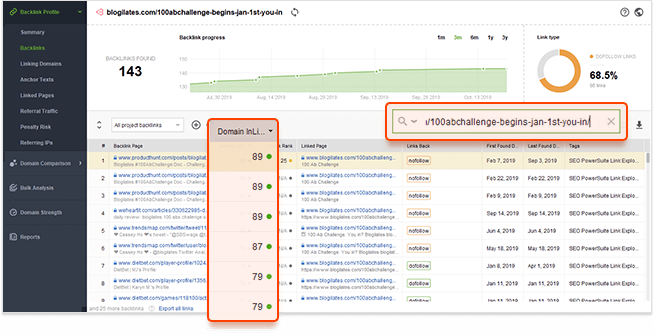 Gather the list of resources to analyze and group them based on what content they link to and what they are dedicated to.
Thus, you'll have a list of relevant resources that might link to your content with a high likelihood and an idea of what content to write to target them.
If you aim at acquiring backlinks, you may proceed with content production. In short, major steps there are as follows:
Write great content.
Promote it to your linkerati.
However, if you're writing your content to attract customers, we have to move to the next step.
Examine your topic
Done with personas, think about how to drive them to your website from SERPs.
If you decide to focus on driving traffic to your website, build your strategy around getting good rankings. And here you can't go without knowing the landscape. What content occupies the highest positions on SERPs? What search terms people use to find it?
See what works for the competition
To know this, you need to look through your SEO competition to fill the gap between your website's content and your competitors'.
I won't recommend you to go and look through SERPs manually (though you can do it if you want). We live in wonderful times where SEO tools facilitate many time-consuming tasks.
To find your competitors with the help of Rank Tracker, go right to the Competitor Research module and choose the Domain Competitors option.
You'll see the list of the domains and pages that compete with you within your topic.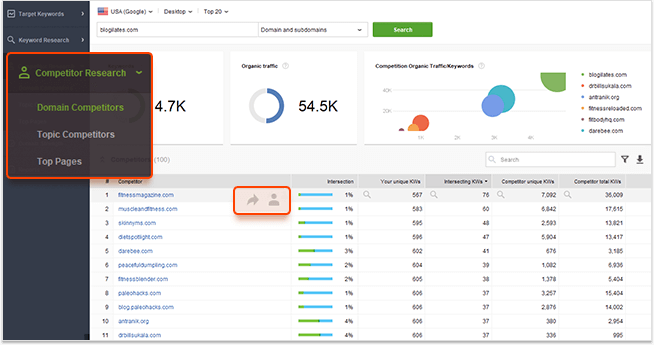 Now, let's move to Keyword Research > Keyword Gap. Enter your domain and your competitors to compare (up to five at once) clicking + Add competitor. Choose Competitor keywords (any competitor but not your site) as the comparison condition and click Search.
You'll have a list of keywords that your competitors rank for but you don't.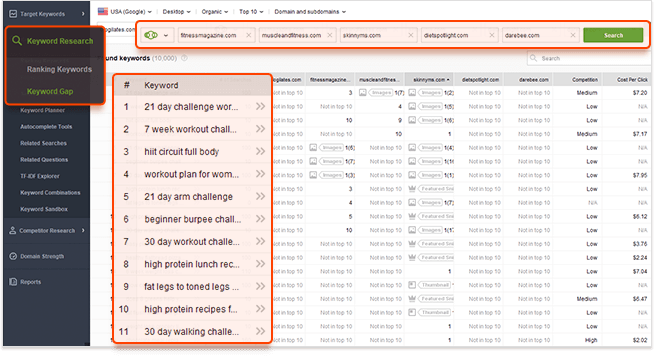 Enhance your keyword list with topic-related questions
Now, you may drill deeper and look at what questions people ask search engines. This may immensely help you with ideas for your content.
Go to Keyword Research > Related Questions, choose your preferable search engine and an option, People Also Ask or Questions Autocomplete. Enter a couple of seed words in the search field and click Search.
Believe me, there you can find real gems that you haven't even thought about.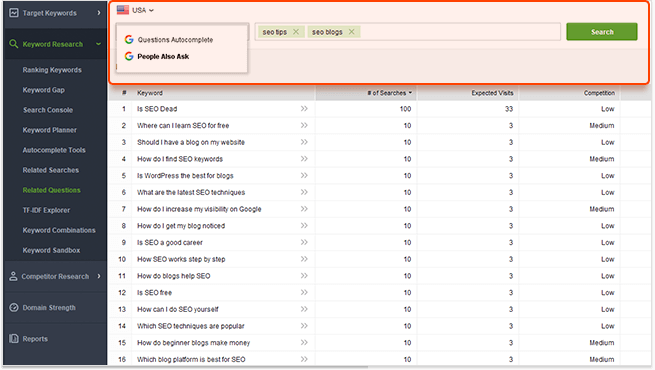 You may repeat the procedure with Questions Autocomplete and Autocomplete tools to find even more keyword ideas.
Brush up the keyword list
Having gathered loads of keywords, you need to look through the list and delete all the irrelevant items, as well as the keywords that nobody searches for, i.e. those with an extremely low search volume.
All the keyword ideas you've found using different methods in Rank Tracker land in Keyword Research > Keyword Sandbox. Go right there and analyze your take in terms of relevancy, number of searches, keyword difficulty, etc.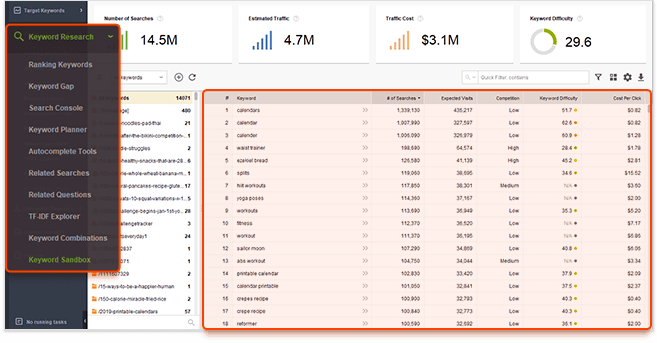 To get rid of all the keywords that seem unsuitable, right-click the keyword and choose Remove Keyword(s) from the drop-down menu.
Copy all the rest to an Excel file, it's a standard procedure of Ctrl+A, Ctrl+C, and Ctrl+V. You may also export the list as a CSV file. To do this, click the download button in the top-right toolbar, right above the results.
Congrats, you now have a list of keywords around which you can start building your content plan.
Create the content plan
By now, you already have your personas identified, best-working content types defined, and a list of keywords gathered. The preparation is over, and you can finally get to planning.
Group keywords to define your content structure
The first thing you need is to work out an SEO-wise content structure.
The general idea here is that your content should work in favor of increasing your topical relevance. To get it, different pieces of content should support each other.
There are different content models that you can use. But I believe that the one that seems to work quite well for this purpose is the pillar-clusters content model. To make it simple, you have a general page (a pillar) and supporting pages (clusters). The essence is to link each supporting page to the pillar page to emphasize its relevance. Clusters may also link to each other, signaling search engines about their relation to the same topic. Pillars sometimes might share content clusters. Also, a pillar can be a part of another pillar's cluster. It's like a win-win strategy.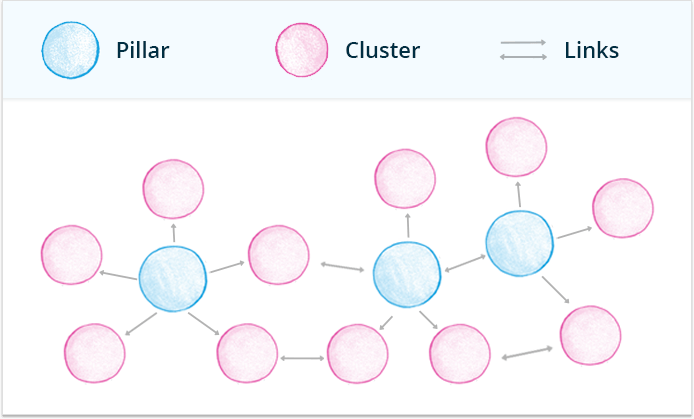 Now, find out how many pillars and clusters you might have. Take your keyword list and single out the highest search volume keywords — you'll use them to build your pillars around.
Arrange all the rest in small groups of closely related keywords that cover different aspects of the topic. They will be the basis for your clusters.
Build a list of your future pillar pages and clusters and map keywords to them.
Map keyword groups to the customer journey stages
Depending on which stage of the customer journey people are, they search for different things and use different search terms. Grouping your keywords on the previous step, you might have noticed that keywords in each of your groups cover different search intents. So now, you can map them to the corresponding customer journey stages.
At this stage, people have a problem they've faced. So they explore it to find how they could possibly solve it.
To catch this audience, you'll be building a piece of content around keywords that cover informational search intent and describe the problems people face. Usually, they are broad search terms and may have higher search volumes.
At this stage, people have already acknowledged that they can solve their problem this or that way. So they start exploring the subject to learn more about the existing solutions.
You can thus build your content around all the solutions-related keywords to trigger this audience.
Okay, now searchers have an idea about different options existing on the market that can help them solve their problems. Now they compare and decide which of them can help best.
Here you use narrower, service/ product related keywords.
At this stage, searchers decide on whether to use your service. And you need to push them a bit and convince them that your service is the best fit for their needs.
Here you use the narrowest keyword terms with a clear purchase intent behind.
To keep the grouping process in order, you can arrange it in a handy table that may look as follows.
Awareness
Interest
Consideration
Conversion
Kw Group#1:
rank in Google, rank my website, how to make my site rank, etc.
Kw Group#2:
how to do SEO, do I need SEO, etc.Kw Group#3:
automatic website analysis, technical SEO audit automation, tool for website audit, etc.
Kw Group#4:
best SEO tools, tools for site optimization, how to choose an SEO tool, etc.
Kw Group#5:
try [brand] site auditor for free, [brand] tool free trial, etc.
Map pages to keywords and goals
Knowing what intent and the funnel stage all your keyword groups belong to, you can easily define what type of page you can create around them. You can also understand what goal each of your pages may pursue.
Here's how it works.
The traffic you receive from the awareness stage keywords is rather cold. Remember, people are not about buying anything yet, but searching for the remedy to their pain points. Thus, you'll be giving them information showing your expertise in the subject. Plus, you can offer them some useful content in exchange for an email, signup, etc.
While for the searchers closer to the conversion stage, you'll be serving pushier, marketing-oriented content that aims to convince them to try or buy what you offer.
Having already defined your personas and their problems, motivations, and expectations, you understand at which stage of the funnel each persona is landed. So it should be simple enough to connect your pages to personas that they target.
Now you can join all the components in your content plan template.
| Stage | Kw Group | Page | Goal | Persona | Link to pillar |
| --- | --- | --- | --- | --- | --- |
| awareness | rank in Google, rank my website, how to make my site rank, etc. | Blog post: [How to make a website rank] | traffic blog signup | [SMB owner with no SEO experience, needs help in SEO efforts ] | Guide: [SEO for beginners] |
| consideration | best SEO tools, tools for site optimization | Blog post: [Best SEO tools every marketer should try] | traffic conversion (free trial) | [SEO freelancer in search of the best solution to work on clients' SEO] | Study: [SEO tools comparison] |
Getting down to writing
Wow, it looks like you are done with planning. What's your next step then? Now you need to turn on your creativity and get to writing.
Content creation is another big theme that needs to be covered separately. But here are a couple of helpful guides for you:
How to write SEO-wise
How to optimize your content with TF-IDF
How to track success at each stage of the marketing funnel
Conclusion
A content plan is an important instrument that helps to bring your content production in line with your business goals. It's one of the three pillars of the overall content strategy. The other two include optimization of the existing content and content promotion (but both deserve to be covered separately). Shrewd planning requires significant time investment in research and data analysis, but it is worth every second.
How do you plan your content production? Your opinions and discussion are welcome.