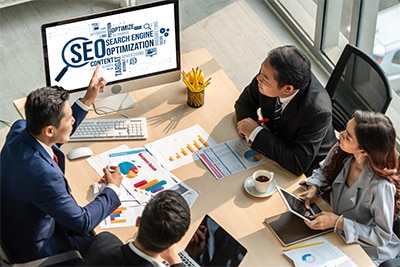 Understanding the Importance of SEO
In today's digital age, having a strong online presence is crucial for the success of any business. Search engine optimization (SEO) plays a vital role in improving your website's visibility and driving organic traffic. If you own a business in Sacramento, California, it is essential to consider hiring an SEO company to help you navigate the competitive online landscape and reach your target audience effectively. In this article, we will explore the reasons why you need an SEO company and how their expertise can benefit your business.
In the vast digital landscape, search engines like Google play a crucial role in connecting businesses with their potential customers. SEO helps improve your website's visibility in search engine results pages (SERPs), increasing the chances of attracting organic traffic. By optimizing your website for relevant keywords and delivering high-quality content, you can rank higher in search results and gain a competitive advantage.
Local SEO for Sacramento Businesses
For businesses operating in Sacramento, targeting a local audience is essential. An SEO company in Sacramento specializes in local SEO strategies that focus on optimizing your website for local searches. They can help your business appear in the local pack and Google Maps listings, making it easier for potential customers to find you when searching for products or services in the area.
Targeted Keyword Research
Keyword research is a fundamental aspect of SEO. An SEO company has the expertise to conduct in-depth keyword research to identify the most relevant and valuable keywords for your business. By targeting the right keywords, you can attract highly targeted traffic that is more likely to convert into customers.
On-Page Optimization
On-page optimization involves optimizing various elements on your website, including meta tags, headings, content, and URL structure. An SEO company in Sacramento will ensure that your website's on-page elements are properly optimized for search engines. They will focus on factors such as keyword usage, content quality, and user experience to enhance your website's visibility and ranking.
Off-Page Optimization and Link Building
Off-page optimization plays a crucial role in improving your website's authority and credibility. An SEO company in Sacramento will implement effective link-building strategies to acquire high-quality backlinks from reputable websites. These backlinks not only drive referral traffic but also signal to search engines that your website is trustworthy and relevant, leading to improved rankings.
Technical SEO Audits
Technical SEO involves optimizing the technical aspects of your website to ensure search engines can crawl and index it effectively. An SEO company in Sacramento will conduct thorough technical audits to identify and fix issues that may hinder your website's performance in search results. They will address factors like website speed, mobile-friendliness, URL structure, and schema markup to enhance your website's overall SEO health.
Content Creation and Optimization
High-quality content is the backbone of any successful SEO strategy. An SEO company in Sacramento can help you create compelling and optimized content that resonates with your target audience. They will develop a content strategy that aligns with your business goals and incorporates relevant keywords to attract organic traffic and engage your website visitors.
Mobile-Friendly Optimization
With the increasing use of smartphones and mobile devices, having a mobile-friendly website is essential. An SEO company in Sacramento will ensure that your website is optimized for mobile devices, providing a seamless user experience. Mobile-friendly optimization not only improves user satisfaction but also contributes to higher search engine rankings.
Tracking and Analytics
Effective SEO requires continuous monitoring and analysis of data to identify opportunities for improvement. An SEO company in Sacramento will utilize advanced tracking tools and analytics to measure the success of your SEO campaigns. They will provide regular reports and insights, allowing you to make data-driven decisions and refine your SEO strategy for better results.
Competitive Edge in the Sacramento Market
The Sacramento market can be highly competitive across various industries. Hiring an SEO company in Sacramento gives you a competitive edge by leveraging their industry knowledge and expertise. They understand the local market dynamics and can devise tailored strategies to outperform your competitors and capture a larger share of the market.
Saving Time and Resources
SEO is a complex and time-consuming process that requires ongoing efforts. By hiring an SEO company in Sacramento, you can save valuable time and resources that can be better utilized on other core aspects of your business. Their team of experts will handle the technicalities and intricacies of SEO, allowing you to focus on running and growing your business.
Long-Term Results
SEO is a long-term investment that yields sustainable results over time. While it may take some time to see significant improvements, the efforts put into SEO can have a lasting impact on your website's visibility and organic traffic. An SEO company in Sacramento will employ strategies that prioritize long-term growth and ensure your website maintains a strong online presence.
Staying Up-to-Date with Algorithm Changes
Search engine algorithms are constantly evolving, and staying up-to-date with the latest changes is crucial for effective SEO. An SEO company in Sacramento closely monitors algorithm updates and adapts their strategies accordingly. They stay informed about industry trends, best practices, and algorithmic changes to ensure your website remains optimized and compliant with search engine guidelines.
Building Brand Authority
An SEO company in Sacramento can help you establish and enhance your brand authority. Through strategic content creation, link building, and online reputation management, they can position your brand as an industry leader and trusted source of information. Building brand authority not only improves your search engine rankings but also fosters trust and credibility among your target audience.
In today's digital landscape, an SEO company plays a crucial role in helping businesses establish a strong online presence and drive organic traffic. For businesses in Sacramento, hiring an SEO company in the local area brings unique advantages. From local SEO expertise to tailored strategies and ongoing support, an SEO company in Sacramento can help your business thrive in the competitive o
FAQs
How long does it take to see results from SEO?
The timeline for SEO results can vary depending on various factors such as the competitiveness of your industry, the current state of your website, and the effectiveness of your SEO strategies. Generally, it takes several months to start seeing noticeable improvements in search engine rankings and organic traffic.
Can I do SEO on my own without hiring an SEO company?
While it is possible to learn and implement basic SEO strategies on your own, hiring an SEO company offers several advantages. They have the expertise, resources, and industry knowledge to develop and execute comprehensive SEO strategies that yield better results.
How much does SEO services from an SEO company in Sacramento cost?
The cost of SEO services can vary depending on the scope of work, the competitiveness of your industry, and the specific needs of your business. It is best to consult with an SEO company in Sacramento to get a customized quote based on your requirements.
Is SEO a one-time effort?
No, SEO is an ongoing process that requires continuous efforts to maintain and improve your website's visibility and rankings. Search engine algorithms evolve, competition changes, and user behaviors shift over time, necessitating regular updates and optimization.
Can SEO help my local business in Sacramento?
Absolutely! Local SEO strategies are specifically designed to help businesses target their local audience and improve visibility in local search results. An SEO company in Sacramento can implement effective local SEO techniques to drive more foot traffic and online inquiries to your local business.